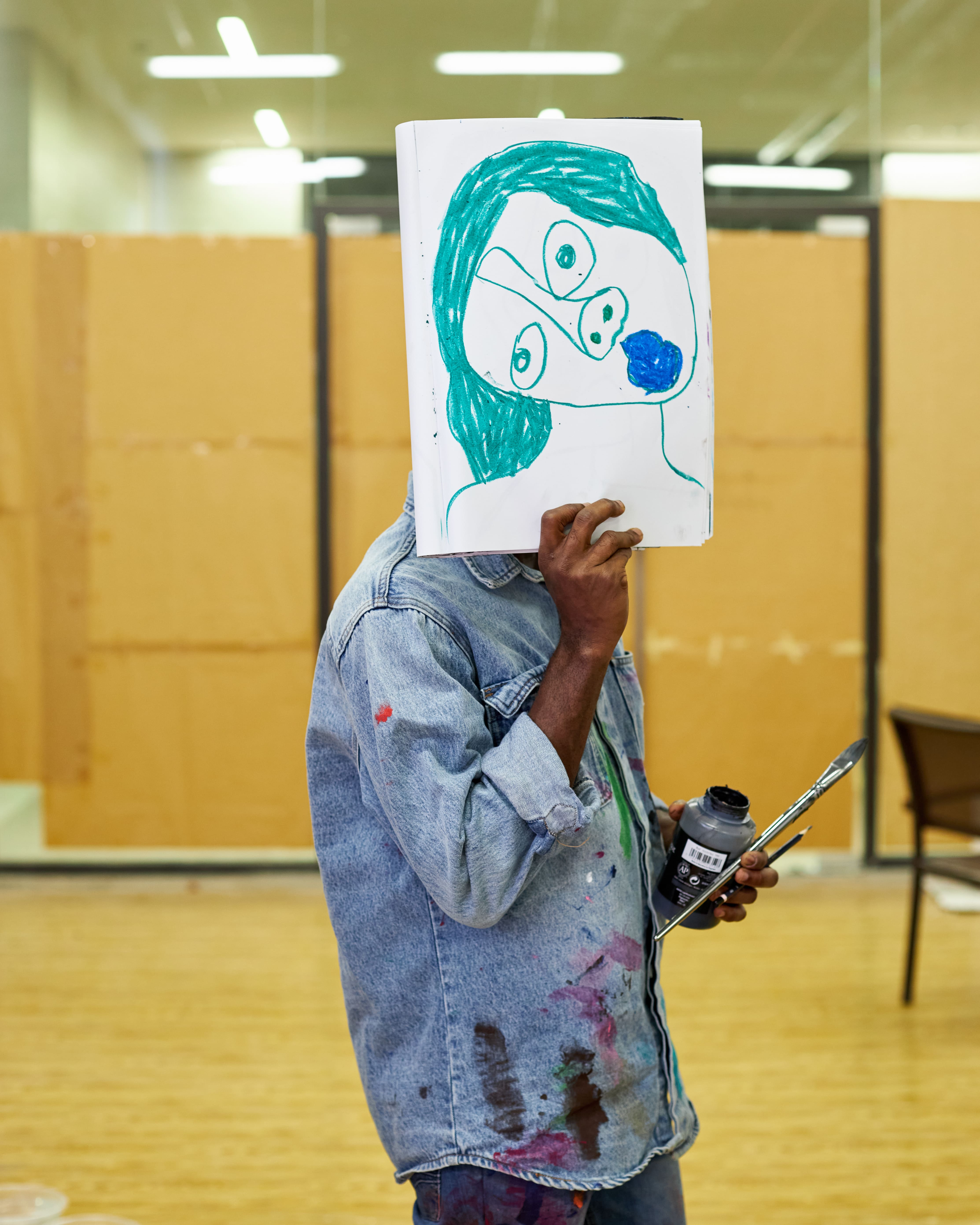 BIOGRAPHY

The vibrant, monochrome, bold and colourful paintings of Isshaq Ismail explore and investigate how the social, cultural, and political aspects of the modern world impact identity. Ismail paints faces and figures in impasto, typically depicting them with accentuated grotesque features and using black, brown, Blue, Purple, Green, Ochre and Red hues. His portraits also reflect his interest in themes such as desire, resilience, power, joy and hope; they tell stories and universal truths about societies around the world. Ismail studied at the Ghanatta College of Arts and Design, he lives and works in Accra, Ghana.
Ismail's paintings demonstrate a fidelity to what he has termed "infantile semi-abstraction," a style that performs a studied, technically and conceptually rich form of childish abandon. Marked by the liberal use of impasto, gestural lines, and a vibrant colour palette, his works speak to the human condition in postmodernity. The thick layers of paint that compose his figures add texture and depth, belying the simplicity that initially greets the viewer's eye. Ismail notes that his technique of painting mimics how a sculptor manipulates clay, which intimates a tactility to how the artist brings these subjects into being. There is an attentive freedom to the thick brushstrokes that sweep across canvas, imbuing the scene with the joyful possibility of liberation through non-conformity. Bold, bright, vivid colours saturate the scene, encasing both figure and background in pulsating energy. The figures themselves are surreal imagining of the human. Magnified lips, impressionistic noses, and a two-dimensionality to faces and bodies produce portraits that are raw and organic in their commentary on human life. Ismail explores the grotesque as an aesthetic form, asking what it means to confront the ugly and misshapen in a world, especially an artworld, that is fixated on beauty. These works stake a political argument in their interrogation of beauty standards, pressing questions of who gets to be deemed lovely and who languishes in the realm of the hideous and, so, disposable.
A keen observer of the world around him, the artist translates his felt sense of moods, emotions, and atmospheres into the figurative representations he paints. The end result is an at times disconcertingly honest glimpse of how social and political realities - our material aspirations in a consumerist world, the destructive force of racism or patriarchy - distort and unravel us. Bodies and identities appear fractured and haphazardly pieced together, demonstrating the daily reality of existing in the contemporary world and its conditions that undo. Ismail describes his art as making polemical statements about socio-political circumstances as a way of exploring them, in order to understand the texture and substance to these issues as well as to confront them in ways that ensure survival and freedom. However, the ravages of the world are not the only discernible sense of his works. Expressed here is desire, elation, wonderment, strength, resilience, joy, and hope, proving that the human subject is never wholly marred by adversity or violence.
ARTIST STATEMENT

I am interested in breaking the mould of painting by subverting and interrogating the preconceived notion of the idea of beauty within the canon of painting, primarily figurative painting, and challenging the perception of aesthetics. Desire, longing, wonderment, strength, resilience, power, Joy and hope can be seen in the face and figures of my work. I employ thick, loose, flat and cryptic gestural brushstrokes of Acrylic paint without inhibition, fear or conformity, like the way a sculptor sculpts human figures from clay, I sculpt my figures with the brush. I describe my vibrant, boldly coloured, thickly impastoed figuration as "Infantile semi-abstraction". The images I create become metaphors of people's sentiments and also serve as protagonists to represent the masses and advocate for the voiceless. Not trash, but people. Not remnants, but lives - look closer and they will tell you their stories.
ISSHAQ ISMAIL
Born 1989, Accra, Ghana
Lives and works in Accra, Ghana
EDUCATION
2012 CERTIFICATE Painting, Ghanatta College of Art and Design, Accra, Ghana
SELECTED SOLO EXHIBITIONS

2023
Beyond The Fence Begins The Sky, Efie Gallery, Dubai, UAE
2022
Allure, Hdm Gallery, Beijing, China

Beauty Behind The Madness, Gallery 1957, Accra, Ghana

2018
Layers, Nicholas Roman Fine Art, New York, USA
SELECTED GROUP EXHIBITIONS

2023
Africa Supernova, Collection of Carla & Pieter Schulting, Kunsthal kade Museum, Amersfoort, Netherlands

"What Now" PM/AM Gallery, London, UK

Gallery Team Picks, Corridor Contemporary, Tel Aviv, Israel

Modern Muses: Post-War & Contemporary Masters, Helwaser Gallery, New York, USA

2022
Unlimited, Gallery 1957, Accra,Ghana

EMERGE an initiative by Naomi Campbell curated by Aindrea Emelife, Doha, Qatar
Home is where the Art is, Kunsthal Rotterdam

Shout Plenty curated by Princess Ayoola and Jana Terblanche at African Artists Foundation / Alliance Francaise Ikoyi, Nigeria
MATERIAL EARTH with Efie Gallery in collaboration with Christie's London, UK
4000+ Years of African Art" / "+4000 ans d'Art Africain" curated by Destinee Ross-Sutton at the Wall House Museum in Saint Barthelemy
Art of the present Future, Almaden, Madrid, Spain

2021
BLACK EXCELLENCE - BLACK ELEGANCE, Ross-Sutton Gallery 45 Lincoln Road, Miami Beach, Florida, USA
(West) African Renaissance with Gallery 1957 in collaboration with Christie's, Dubai, UAE
All Africa Festival Burj Park Downtown Dubai by EMAAR, Artwork presented by kuenyehiaTrust for Contemporary Art and showcased by Efie Gallery
"AWAKENING" (Nature's Safe Charity in support of Animals facing extinction) curated by Aubrey Higgin, Noho Studios, London
SAY IT LOUD 2 (Visionaries of Self) curated by Destinee Ross-Sutton, Christie's New York, USA
Gallery extended 1-54 NY presentation, Ross-Sutton Gallery, New York,USA
2020
"BLACK VOICES: Friend of My Mind" at Ross - Sutton Gallery, New York, USA.
SAY IT LOUD (I'm Black and I'm Proud)" curated by Destinee Ross-Sutton, Christie's New York USA
Cgunu/Nkambom, Cape Town, South Africa

2019
BLAU! FISCHE! at To Live is To Choose Gallery, Stuttgart, Germany

Various Artists at To Live is To Choose Gallery, Stuttgart, Germany

Celebration of Australia Day in collaboration with the National Museum Australia and Gertrude Foundation at Australian High Commission, Accra, Ghana
2018
To celebrate the visit to Ghana of Their Royal Highnesses The prince of Wales and The Duchess of Cornwall organized by the British High commission in Ghana at Jamestown cafe, Accra, Ghana
AC1 (African Contemporary One) at Nicholas Roman Fine Art, New York, USA
African Day Summer Show at WTC The Hague Art Gallery, Netherlands

2017
Orange week Fuse It at Netherlands Embassy, Accra, Ghana
2016
Barclay's L'Atelier Finalists Show at Absa Gallery, Johannesburg, South Africa

Holland & Ghana Growing Together at Netherlands Embassy, Accra, Ghana

2013
National Museum, Accra, Ghana
ART FAIRS

2023

Art Cologne with Pearl Lam Gallery, Hong Kong, China

Dallas Art Fair with PM/AM Gallery, London, UK

Art Basel Hong Kong, with Pearl Lam Gallery, Hong Kong, China

Art Fair Tokyo, with Pearl Lam Gallery, Hong Kong, China

Art Dubai with Efie Gallery, Dubai, UAE

Art Geneve with Gallery 1957, London, UK

2022

Art Miami with Helwaser Gallery

Solo booth at 1-54 London, Gallery 1957, London, UK
2021
Art Miami with Waterhouse & Dodd
Westbund Art & Design Fair Shanghai with Bloom Galerie in collaboration with HDM Gallery
2019
St-Art, the Contemporary Art and Design fair of Strasbourg with La Galerie Florence, France
Art Montpellier Fair with La Galerie Florence, Beziers, France

COLLECTIONS
Private Collections
WORKS & PROJECTS
2020 Crit Lab, Foundation For Contemporary Art, Accra, Ghana

2018 Chalewote Art Festival, Accra, Ghana

2017 Chalewote Art Festival, Accra, Ghana

2015 Imago Mundi (Contemporary Artists from Ghana)

2014 32/64/90 World cup Art project with Uniform creative Consultancy UK - Selected Ghanaian Artist
RESIDENCIES
2023 Efie Gallery, Dubai, UAE

2022 Gallery 1957 Accra, Ghana

2020 Quarantine Residency, Isshaq Ismail Studio (Accra, Ghana)

AWARDS & COMPETITIONS
2019 Shortlisted for GUBA (USA) Influential Artist Award

2016 Barclays L'Atelier Art Competition, Johannesburg, South Africa -Top 100 finalists

2016 Kuenheyia Art Prize, Accra, Ghana - Top 10 finalists

2015 Kuenheyia Art Prize, Accra, Ghana -Top 10 finalists